Being a lazy consumer, I rarely stop to think about the hidden costs of some of my digital choices. One such consideration is that of online grocery stores. The convenience of having groceries selected online and delivered to your home is unquestionable, but is it worth it for the price?
When evaluating and using services such as Coborn's Delivers in the past, I would always look primarily at the timing and cost of the delivery fee, and assume that the pricing of the food was comparable. This was definitely a mistake, as I later found out, as many of these online grocery stores hide some of their additional costs of operation in the price of the food.
To compare more directly, I finally took a moment to look at a receipt from my local grocery store (a major chain run in Minnesota), and pulled up the identical items or a equivalent comparable (such as strawberries), and made the following chart:
| | | |
| --- | --- | --- |
| Item | Local Store 2014-01-04 | Coborn's 2014-01-05 |
| Goldfish | 2.04 | 2.49 |
| Skippy Peanut Butter | 2.74 | 3.09 |
| Starkist can | 1.12 | 1.19 |
| Kraft Macaroni and Cheese | 0.94 | 1.19 |
| Raisins | 1.49 | 2.29 |
| Strawberries | 3.31 | 3.99 |
| Prego - Vodka | 2.09 | 1.66 |
| Bag of Baby Carrots | 1.44 | 1.79 |
| Eggo Waffles | 2.44 | 3.29 |
| Milk | 1.98 | 2.19 |
| Tropicana | 3.49 | 4.49 |
| Digiorno 8OZ | 3.19 | 3.99 |
| | | |
| Sum: | $26.27 | $31.65 |
Looking at these prices, there's a 20.48% premium on the online delivery, in addition to the delivery charge. If you have ever spent any time thinking about getting a loyalty card that gives a discount, or using apps such as Cartwheel where you can save 5% or 10%, then it quickly becomes clear that the 20.48% surcharge is completely unacceptable, eliminating online delivery from the realm of feasability.
Also, my Fitbit hates it when I use online delivery for locally available things.
permalink
One of the most common tasks on the internet today is looking up the weather. I woke up early this morning, around 5:29AM and was contemplating a run. I already had a browser open because I had been watching some YouTube videos, so there were a hundred different ways for me to get the weather. Here are four that I would commonly do:
Ctrl+T (Open a New Tab), "weather", Ctrl+Enter (Open as .com site)
Ctrl+T (Open a New Tab, "?weather" (Search for "weather")
Grab Google Glass, put it on, swipe 3 times to the left.
Reach into my pocket and grab my phone, Turn it On, Unlock It, Press Home, swipe left (I have Google Now on my left home screen).
There are plenty of other ways, but these hit the main capabilities of modern technology. Use a mobile device, use a browser-based powerful computing device, or use a wearable.
Weather Service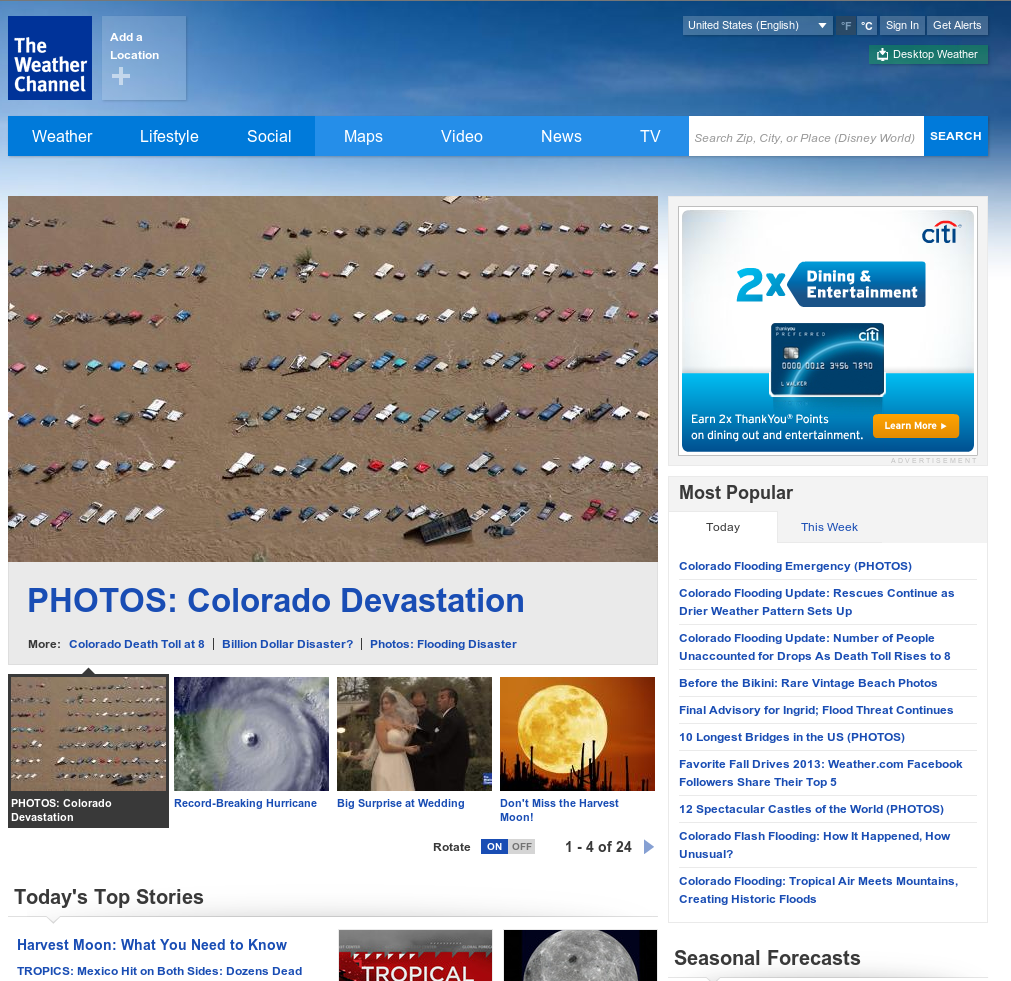 My first inclination of using a service such as weather.com to provide me information was a complete failure. Not only did the website fail to recognize my location based on IP or any of the other publicly available information about me (why not ask my Browser? Chrome knows pretty much where I am), but it completely failed to give me any WEATHER. The human mind has been fantastically written through the power of brain plasticity to use the internet and the tools around us as an extension of ourselves. I clearly wanted to do a simple lookup of the weather in order to make some decisions regarding clothing and morning activities. If your tool doesn't support this instantly and effortlessly, why in the world would I want to use it?
Google Search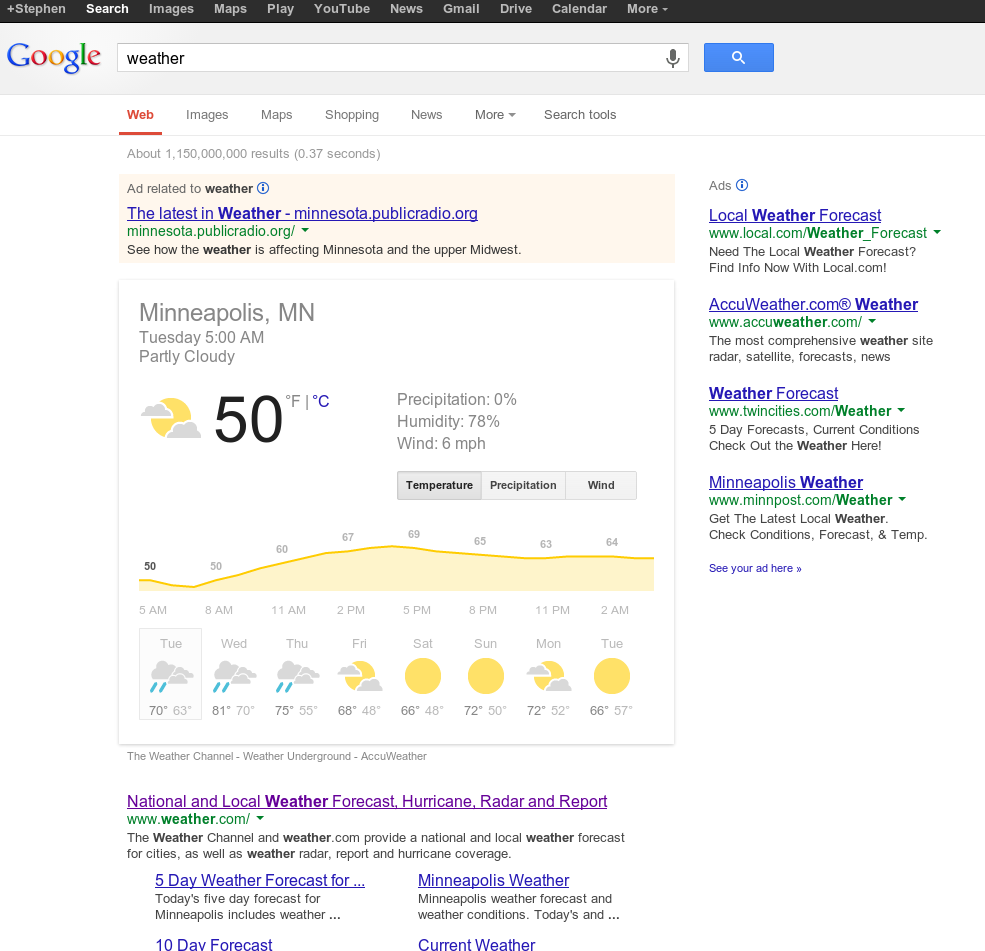 My second attempt was with a Google Search. Thankfully this recognized my location, and gave me an extremely useful forecast for the day. There is even a giant section of advertisements above the information I'm looking for, but I can still see instantly what the temperature looks like for the day.
Google Glass
It may seem like a lot of effort to reach over, put on a pair of glasses, and activate a couple swipes. When compared to typing at a keyboard that my fingers are already at, it definitely is; but when you take into account the fact that I'll be wearing these glasses for the rest of the day, and this is an interaction I will most likely perform 5-15 times over the next 8 hours, the convenience and predictable nature make it reasonable again.
Cell Phone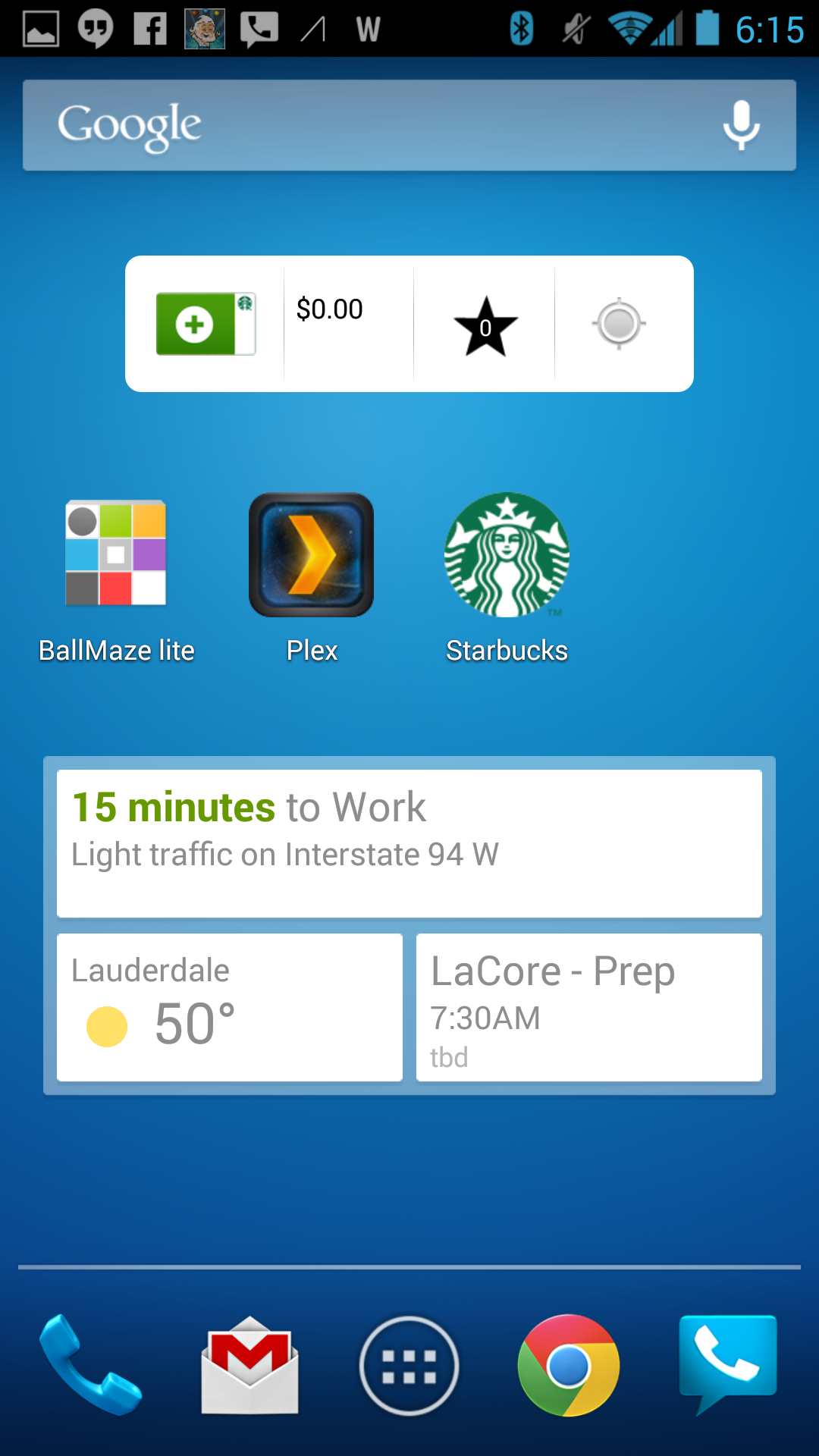 I used to think of smartphones as these intelligent devices that we carried around with us that made our lives easier. This was originally the case, but as we cram more and more capabilities into each phone, as well as a plethora of services all competing for our attention, the difficult of using a smartphone keeps increasing. I had to perform 3 more actions on my phone than I did using Google Glass. This reflects the incredible power of mobile computing. I've noticed it again and again, wearable computing for dedicated activities often improves the quality and quantity of those activities. Great examples are picture taking or sending messages. I send far more messages and take more pictures through Google Glass because it's so easy. I don't need to worry about getting distracted by yet another 30 notifications. I can just do.
Summary
I think it's important to note that this little test reflects the idea that desktop computers and large powerful machines with giant screens will not be disappearing. With the introduction of each successive generation of computing, we find ourselves more and more choosing the right tool for the job, but needing tools at every form factor.
permalink
Was it selected because of Zynga's departure from Facebook?
Facebook has officially launched its Mobile Games Publishing Pilot Program that aims to help small-time social media game publishers become international brands in exchange for a cut of their revenues. Under the program, chosen developers will get the chance to collaborate with Facebook when it comes to the development and distribution of their games. They will also be given analytics tools in order to fully evaluate the success of their games. One of the most notable titles selected by Facebook was Live Holdem, a poker game developed by Dragonplay.

Live Holdem, which is also known as Dragonplay Poker, has at least one million daily users according to Facebook. The game is also the number one social poker game on Android according to digital news provider Talk Android. Compared to Zynga's poker titles, Live Holdem is not that big but the social networking site believes that it is getting there. Unlike the games at partypoker, Live Holdem doesn't offer any cash prizes or seats at major poker events. What it brings to social gamers is competitive gaming since it is played by real people, not computer bots. The game has two types of game modes: the first ones is the shootout tournament that requires a player to beat all of his/her opponents to advance to the next round; and the second mode is the Sit-and-go wherein players compete in a poker table for only one chance—once you are knocked out of the table, there's no more chance for you to come back. Live Holdem attracts a great number of visitors because of its private online/offline messaging system and the exclusive Platinum Zone, where top-tier players on the leaderboard. Other features that the Dragonplay boasts are personal avatars, ring games, free daily gold, and lottery draw.

There is some mystery behind Live Holdem's selection. The game is pretty much like the Texas Holdem offered by Zynga, one of the biggest social media game publishers that decided to water down its ties with Facebook. Is the social networking site worried about Zynga's decision to walk away from Facebook's arms? Does it think that it will be able to get back the million Zynga Poker users by adopting Live Holdem?

In an earlier press release, Facebook insisted that the social media giant is unfazed by Zynga's absence. In fact, in its latest financial report—months after Zynga decided to tone down its dependence on it—Facebook posted a 12% growth collected from gaming revenues. Furthermore, Facebook CEO Mark Zuckerberg said that other companies are starting to fill the void Zynga has left.

"With the exception of our largest partner, Zynga, whose growth hasn't been as awesome as everyone had hoped, the rest of the community is actually growing quite well and is quite healthy," Zuckerberg told the media.

Facebook and Zynga's sour relationship is not the issue here anymore. The focus is now on independent game developers who are trying to become international brands. Facebook knows well which games should stay under its care. Once Facebook's efforts in strengthening partnerships with other gaming companies, one thing is going to happen for sure: Zynga Poker won't be missed in the social gaming world.
permalink
Having just returned from a trip to my local Best Buy, I was posed the question by a friend "Would you rather live in a walled garden, or in a desert?". This can feel like the choice we are forced to make between propretiary technologies and free or standardized technologies.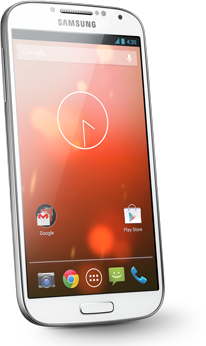 The context of the question was with the Samsung Galaxy S4 google edition (i9505g) and Miracast. At Google IO 2012, Google announced that Android 4.2 and above would be supporting the wireless display standard known as Miracast. Since then, support has been virtually non-existant. This includes both the Nexus 7 and the Nexus 10, both of which were launched with Android 4.2 (after the announcement), but without miracast.
Since then, Google has launched exactly two devices with Miracast support, the first is the Nexus 4, and the second is the Galaxy S4 Google edition.
Giving it a Try
Searching the internet for Miracast-capable devices results in around 4 devices, which state support for a confusing blur of standards, sometimes ignoring Miracast entirely. They all seem to cost $60+ at this point.
The closest thing that Samsung is pushing hard is the Allshare Cast capability, which all of their TVs and devices are equipped with. This proprietary version of display streaming seems to work very well when you have a handful of samsung devices, but do I want to be forced into using Samsung's standard and only buying their devices? If I wanted to do do that, I could just buy only Apple products and most likely have a superior experience with an iPhone, iPad, and an Apple TV.I went to Best Buy to try out Miracast's compatibility with these devices before making a purchase.
We found 6 TVs that stated support for Wireless Display, and 4 of them even showed up on my SGS4 GE as available, but connecting was flaky. Although I was able to mirror my phone on 2 Samsung TVs, the connection was slow and only lasted around 20 seconds before failing.
Results
Perhaps the Miracast technolgy is too new, it's disappointing that neither the proprietary Android world has adopted it, nor any open source versions. Theoretically Linux or Ubuntu could provide direct support for the streaming standard over Wifi, but to date there seem to be no attempts to do so. The closest was a project to add Miracast XBMC on the raspberry pi.
permalink
A recent improvement to the Google Plus javascript widget and API allows us to convert static photosphere images into interactive widgets, composing full rotational views of the world.
See more information and learn how to create your own On Google Developer's Panorama Website
permalink
View All Articles