A recent improvement to the Google Plus javascript widget and API allows us to convert static photosphere images into interactive widgets, composing full rotational views of the world.
See more information and learn how to create your own On Google Developer's Panorama Website
permalink

In the modern world, there is a lot of complexity, and software is no exception. There's a hilarious xkcd that describes the splinter groups within hobbyist crazy straw fanatics, describing the fractal nature of such complexities.
One of the most annoying example of these comes with the complexity of publishing a polished high-profile mobile application. Within cameras we have digital cameras, within digital cameras we have the sports enthusiast market, within that market we have products like the GoPro. The GoPro announced The Hero 3 last year. WIthin the Hero 3 there are 3 editions. And for these editions there are mobile applications for both iOS and Android. The problem arises with the amount of effort it takes to launch applications like this.
In the 1980s there were hundreds of programmers working across the globe, in the year 2013 there are tens of millions of programmers working on building, rebuilding, and connecting software all across the globe. The net result is that there is a lot of software being built now, and it can be very hard to ensure it is all polished.
It's maddening to see applications where it's evident that a lot of time was spent, but then they miss some of the most basic details. This is the case with the Hero 3 Android Application. I haven't tried it out, but despite all of the time it took to design, build, test, and launch the application, the team responsible for putting it in the store completely failed.
https://play.google.com/store/apps/details?id=com.gopro.smarty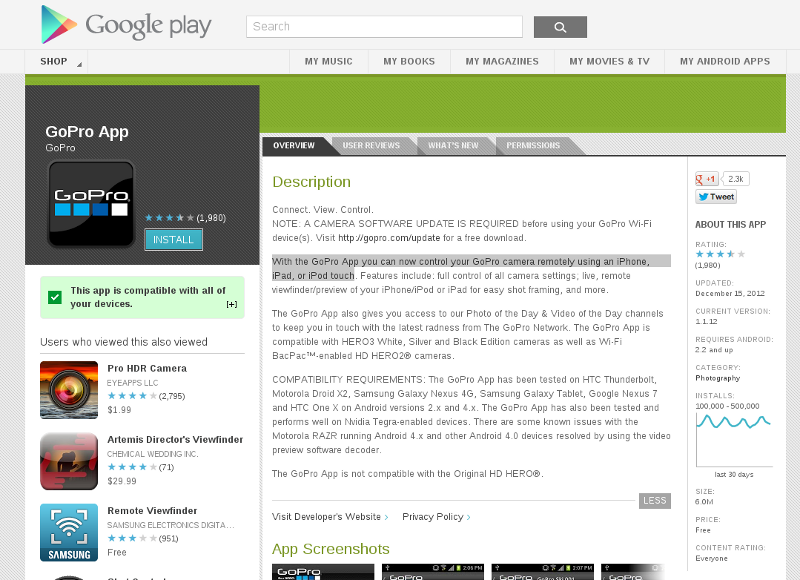 "With the GoPro App you can now control your GoPro camera remotely using an iPhone, iPad, or iPod touch." This is one of the main descriptions for the application in Google Play, the Android marketplace. How much work would it have been for the person who copied and pasted the description to fix this? How much work would it have been to tweak 3 words at any point when working on publishing updates?
Perhaps this is irrelevant, and it obviously hasn't hurt their brand or their sales, but it's still amazing that oversights like this happen, propagate, and persist. If you try to look at how to prevent and fix this paradigm, constant minor incremental improvements are the only way. Every day, try to do better than the day before, and don't like with broken windows.
permalink

This morning at 7:00AM PDT registration opened for Google IO 2013. With tens of thousands of potential attendees slamming the site. The lottery system used by Google since last year (and expanded and improved this year) seems to still failed to meet expectations.
Thousands of users are reporting that while they were awarded a ticket, Google Wallet failed to load in time to complete the transaction, resulting in a frustrating experience, reminiscent of Google's recent launches of the Nexus 10, Nexus 4, and their terrible history of launching accessories.
What is Google thinking? At their scale, these types of web applications should be no problem. If you are going to run a true lottery system instead of first-come first-served, then just take submissions over a week, pick the winners, and let them know. There's no reason to run a real-time lottery if it doesn't work for most of your applicants.
I'm one very frustrated Google ecosystem developer.
permalink
To celebrate the 9th anniversary of the site, we have launched a new look and feel. This new appearance uses a fixed width, which matches the trends of major websites. It seems that once you have a screen with a resolution of higher than 1080p, a web page that spans to the size of your screen makes the text unreadable (the eye can't track between lines), and the site less useful.
Let us know what you think!
permalink
If you haven't heard of Bitcoins before, I recommend you head over to http://bitcoin.org/ and watch their video. Bitcoin is a highly interesting decentralized and fully digital currency.
As of the writing of this article, the current value of 1 bitcoin is $23.28 USD. (see http://mtgoxlive.com/orders for one vision of current prices). This is huge increase over the last year. When I began collecting bitcoins and using them, the exchange rate was about half this value. There seems to be an ongoing discovery process where more and more individuals and businesses learn about and discover Bitcoins. This increase in interest, coupled with a more slowly growing supply is resulting in a currency that keeps increasing in value.
With may people discovering Bitcoins, one of the first challenges is the acquisition of Bitcoins. There are exchanges all over the place, but a lot of them use clearing houses such as Dwolla that add an additional layer of complexity. For Bitcoin to have value, and start being used for increasingly relevant and important transactions, people need coins. You could barter your way into the market, but it's easier to use a service.
Coinbase is a new service that will create a direct link to your bank account, and buy and sell Bitcoins. There are other services that operate this ways, but Bitcoin is partnered with US Bank, and seems to have a higher level of reputation and reliability. Coinbase has a real office in California. Additionally, Coinbase is operated more as a technical software startup than a Bank, focusing on the experience and the process.
permalink
View All Articles