I'm a huge fan of Android and Google's line of devices running the latest and greatest version of Android. In my backpack right now I currently have a Nexus 7 and a Nexus 10. In my pocket is the Galaxy Nexus. In the past I used Samsung phones like the Vibrant (USA T-Mobile version of the SGS1) and the SGS2, but since I received my Galaxy Nexus at Google IO 2012, I haven't really pined for any other phone. The Galaxy Nexus is a dual core device running the Android Jelly Bean 4.2.1. Compare this to the non-Nexus world, my family and friends on Verizon all use the Samsung Galaxy S 3 (SGS3). I have a huge amount of epxerience with other Androdi devices. Our company tests our software on a wide variety of devices, so I'm familiar with most of the devices available today.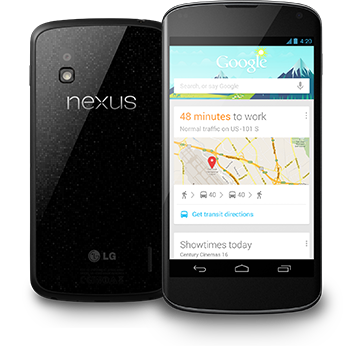 With my passion for Nexus devices and my typical cycle of upgrading my phone every 6-10 months, I'm shocked with myself that I haven't bought the Nexus 4. Despite having been sold out almost constantly since its launch, I've had 4 or 5 opportunities to buy this device through friends and through brief periods of availability. The device itself is very exciting. With its glass back, bezeled edge, and improved camera, there are a lot of things to like about the device. It's a material upgrade in technical specifications, performing on par or exceeding the latest generation such as the SGS3.
The problelm with this device is that although its technical specs are more than a 100% increase from those of the Galaxy Nexus (my primary daily driver), it's only a 3-10% increase in user experience. What I mean by this, is that although its a supercharged device, it wouldn't really change my life very much. The version of Android it runs is the same as what I have today. It doesn't come with an inductive charger, and no official inductive charger or any sort of official dock has been launched to date. It lacks an expandable battery. I don't use an expanded battery in the Galaxy Nexus, but I feel like I could if I wanted to. Samsung and Apple are decimating Google with their accessory support, and its hurting the Nexus devices. In many cases a phone or tablet isn't a complete experience until there are quality cases and docks for it.
There have been two or three occasions when I really wanted to upgrade my device. The first is when playing Ingress. It would be really nice to hack portals more quickly, and for the appilcation to load faster. I've missed a couple of portals while driving around because I was waiting for my Galaxy Nexus to catch up. The second was on bootup. I run CyanogenMod 10.1, so some of this may be my fault, but I feel like from all of the videos of this device I have seen, the power seriously manifests itself on bootup. The Nexus 4 boots in tens of seconds, rather than in minutes. This material difference can be frustrating when turning my device on and off while travelling, or when flashing custom ROMs.
Overall, due to the lack of material improvements, I'm waiting on the Nexus 4. Perhaps I'll get one if my experience with my Galaxy Nexus to degrades, or if they launch a new Nexus phone in 2013, or if Google hands me a Nexus 4 at Google IO 2013.
permalink