I only get to build a new machine once or twice every couple of years. The most recent machine I have been looking it was a Media Server.
Primary Goals
Build a computer that would player media files (music, videos) through my TV and speakers.
Ability to render 720p visualizations for music I was listening to.
Use this server as my main file share for the house, containing my main RAID array (2.4 TB)
Integration with a bluetooth or other wireless remote control (It was discovered that the GMote for the Android would meet this need well)
Cost under $600
Secondary Goals
These goals were desired, but not necessarily possible or required for a successful media server installation.
Ability to record or watch broadcast television through the Media Server with the use of a Tuner Card.
Ability to remotely control the media server from my main desktop.
Cost under $300
Specification Process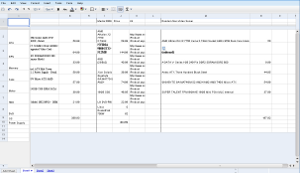 I have a large spreadsheet where I track levels of CPU, GPU, Memory, Case, Motherboard, HDD, DVD, and OS prices. Every few months I go in and add a new column which represents a new machine. I go on newegg and browse around looking for the most recent best-value for components and put them in this new column. I then go back and mix and match with components from the other columns, to arrive at a machine that has enough power, and achieves a good value for the price I am looking for.
Final Specs
So after synthesizing the goals I was trying to achieve, the prices and value available, and browsing the latest items available, I came up with the following specs:
| | | |
| --- | --- | --- |
| Type | Component | Price as of May 2009 |
| CPU | AMD Athalon X2 7750 2.7GHz | 59.99 |
| Video Card | NVIDIA 9800GTX+ 512MB | 144.99 |
| Memory | 4GB (2GBx2) | 40.99 |
| Case | Xion Solaris | 39.99 |
| Motherboard | Gigabyte GA-MA770-UD3 AM2+ | 74.99 |
| Primary Hard Disk | 16GB SSD | 48.95 |
| Optical Media | LG DVD-RW | 22.99 |
| Operating System | Linux | 0 |
| Power Supply | RocketFish 700W | 62 |
One of my hopes with this purchase was to break the 0 mark so that I could finance the entire purchase for 6 months without interest. I also wanted to begin using small solid state disks to speed up boot and application load times. I found out later that the SSD disks I was looking at are designed for netbooks such as the Eee PC, and are not easily convertible to a normal tower desktop or server.
The Video Card and CPU may appear to be too powerful, but it would be nice if the server could support an upgrade to my TV at some point, where I would need to begin decoding 1080p. The memory and CPU were probably more than I would ever use, but the prices I found were near the low point I had seen for this type of components, so these items represented the best value I could find at the time.
permalink